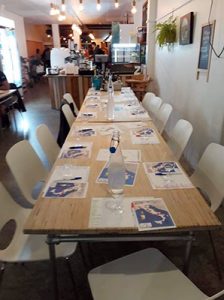 Last night I hosted a restaurant-based event we called A Tour of Italy. The concept was that we would learn how to evaluate samples of wines that were made of a specific well known Italian grape. It was huge fun. We started with a lovely Astoria Prosecco which not only came in a beautiful bottle but a a delightful starter drink. I then talked briefly about the Pinot grigio we tasted as most New Zealanders recognise this varietal. (Although we call it Pinot gris).
Then we moved on to four big reds! I had maps of Italy on the table with customized assessing sheets. This made for a really hands on interactive experience. We got to know each others favourites and there were some great Italy travel stories shared as we worked our way through a delicious Sangiovese, a luscious Primitivo, gorgeous, plush Montepulciano which has a flavour profile recognised by kiwis. We finished with a rich moody Negromaro. The order of reds was a wee bit determinded by the guests.
The resturant supplied delicious antipasto platters which complimented the wine well often lifting flavours we hadn't identified before. 8 to 10 people is a great number for an intimate, interactive, educational tasting experience.